Meet our team of experts
---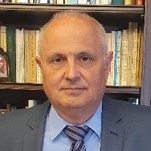 Dr Stamatis Tournis
Dr Stamatis Tournis is a Principal Consultant, in charge of our Consulting and Advisory Services. Proficient in Operational Risk Management, Business Continuity, Information Security & Crisis Management, he has a strong background in Management, Business & Operations Analysis, Information Technology utilization & Programme and Project Management in complex environments.
He has more than 35 years extensive experience with projects in Private and Government Organizations and in a large variety of business areas, as Banks, Telecoms, Technological, Pharmaceutical, Energy, Health, Insurance, Tobacco, Stock Exchanges, Lottery, Retail, Wholesales and Automotive Industries. He is a Fellow Member (FBCI) of The Business Continuity Institute (UK), a Certified Project Management Professional (PMP) by The Project Management Institute (USA), a Certified ISO27001 and ISO22301 Lead Auditor and Implementer by PECB, a Certified Information Systems Auditor (CISA) and a Certified Professional in Risk and Information Systems Control (CRISC) by ISACA (USA).
An experienced keynote speaker, presenter, seminar lecturer, trainer & writer with a lot of publications in international magazines and newspapers, he is also the Leader for Greece and Cyprus BCI Forum, Member of the Advisory Board of the Continuity & Resilience Review Journal and Member of the BCI European Awards Judging Panel for several years.
Antonios Bofilios
Antonios Bofilios is a Business Resilience Consultant specializing in Risk Management, Business Continuity and Data Protection.
His areas of expertise include Disaster & Emergency Management and Crisis Management in complex environments, Privacy Management & GDPR compliance projects in large organizations as well as Project Management, Information Security engagements in several Clients projects of all sizes.
Antonios has conducted research in the field of Disaster Risk Reduction with published papers in scientific journals. He holds a Master's degree in Disaster Management and an Information Technology Degree specialized in Digital Systems from the University of Piraeus.
Theodora Ntinou
Theodora Ntinou is a Business Resilience Consultant specializing in Business Continuity, Risk and Crisis Management and Disaster Preparedness. Her main responsibilities include establishing and supporting Business Continuity Management Systems (BCMS), designing and enhancing Risk Management procedures, drawing Disaster Recovery Plans and participating in certification audits as an expert consultant.
Her array of skills extends to data protection and privacy, providing expert guidance in achieving GDPR compliance across organizations, managing privacy related risks and incidents and preparing and enforcing data protection policies and procedures.
She is, also, highly experienced in Project Management both in national and European projects and has effectively managed several projects in the European Union and the Middle East.
Theodora holds a master's degree in Biological Applications and Technologies.
Antonia Tzoganaki
Antonia Tzoganaki is a Senior Business Advisor at SIGMA BUSINESS NETWORK. Her areas of expertise include Business Resilience and Business Continuity, Operational Risk Management, Solutions Development and Project Management. She is delivering projects for customers in the sectors of Banking, Insurance, Education, Telecoms, Technology and Software Development.
Antonia has over 20 years of experience as a Business Consultant and Executive in large organizations. She worked for 12 years as Head of Business Continuity, Governance and Operational Risk Control, in the international group of the French Bank "BNP PARIBAS Corporate & Investment Banking" in Greece.
She holds a master's degree in European Banking, is a Certified Member of the Business Continuity Institute (MBCI), a Business Continuity Management Systems Auditor (ISO22301 Lead Auditor), a Certified Project Management Professional (PMP) and is Certified in Compliance by the National & Kapodistrian University of Athens.